Affordable Elegance
Glass Tables custom designed from a few simple components . The glass pieces , cut and polished , are shipped flat with simple instructions and powerful cement for quick assembly .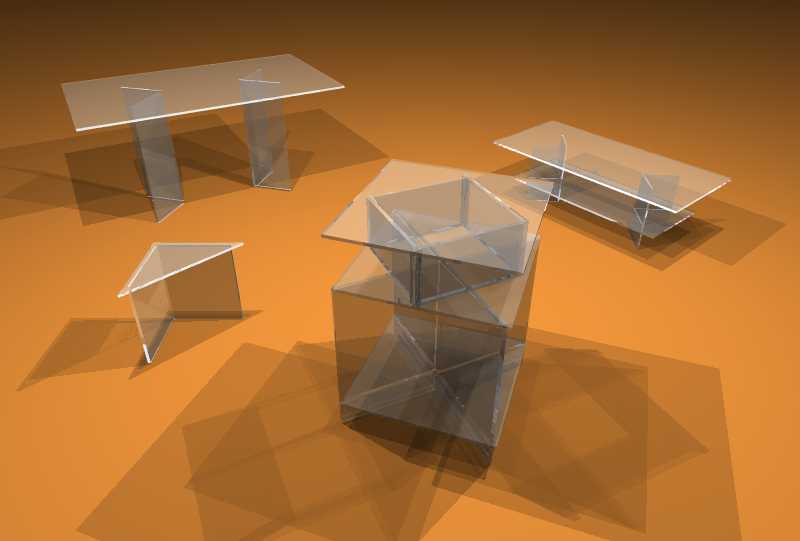 Having Left Manhattan for 2500 meters up in Colorado provides me time to do something I always felt was too off track

to divert time for while paying that Manhattan rent . When I first arrived at Peck Slip by the old Fulton Fish Market in the fall of 1984 , I needed an attractive table for confines of a Manhattan appartment to serve as anything from an office table to a dining table as the occasion arose . I had a set of glass pieces cut and polished in a size to make a slightly tall dining size table ( similar to that on the upper left in the image ) and glued the leg pieces together with super glue .
Subject: Re: Great glass! 20060626
Dear Bob:
Good luck with your tables, very good idea. I always liked that table.
Lucy [ old NYC friend ]
Leaving NYC in 2005 , that table , with some maintanence , was except for one chipped corner ( the one by the manhattan-narrow and much used path to the "kitchen" ) as timeless as it was in 1985. What I learned making and living with that table goes into the design of these new CoSy kits .
The first design prototyped and ready for delivery is a pair of Corner Tables in 3/8" (.95cm) glass , 16" (41.6cm) in height topped by a 16" right triange . here is a composite of various views and arrangements of a pair :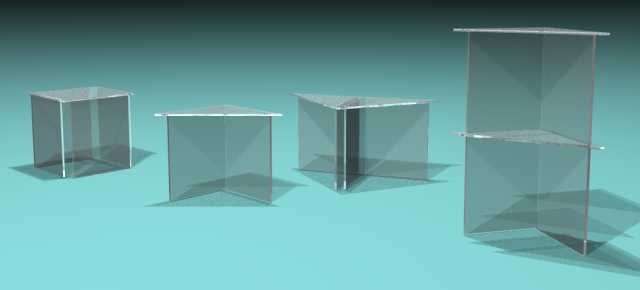 These table kits are now available at the introductory price of $100 for one , or $180 a pair . Each glass kit contains the triangular top and 2 rectangular leg piecs . Each glass kit will be inspected and the leg surfaces to be glued numbered by me . In addition to the glass the kit contains extremely strong glass glue more than sufficient to cement the edges of the leg pieces , and , if desired , the top .
Construction :
A reason I'm a basically software guy is that I'm a left-handed klutz . I'm much more facile at crafting complex expressions than drawing an aesthetic line - not even a straight line but even one that looks good . The back space key is one of humanity's greatest inventions .
So , if I can put these together , anybody with the taste to get one can . However , the quality of your workmanship will definitely be reflected in the finished product .
The edges selected for gluing have their serial number etched in binary by me . Thus you will always be able to tell that your table is a

original even if these mimimalist designs become ubiquitous .
Make your set even more versatile , Get a set of 4 matching tables for just $300 , a full $100 off , stackable as a corner 4 shelf case to 65" .

Also available in 18" and 20" sizes .
Recognizing that minimalist table kits may not be everybody's tea , here are some links to glass furniture designers and fabricators who make neat stuff :